Wild Willy's Powder Horns & Scrimshaw
Powder Horns and Scrimshaw I Have Done.
By Wm "Wild Willy" Frankfort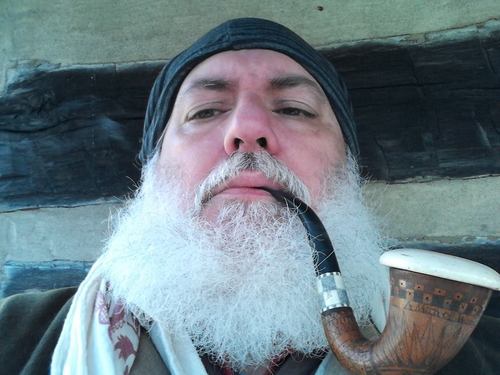 Master Horner & Master Scrimshander
Hello, I am Wm. "Wild Willy" Frankfort artist and professional Horner.
I am a registerd Master Horner with the Honorable Company of Horners. A Guild started in 1996 to assist and instruct artists and craftsmen in the endevor of creating powder horns and other horn items. (Cups, spoons, combs, etc.) I became a Master in 2006 and have accumulated numerous awards for my craft. I am a founding member of, "Rangers of the Ohio Company" and currently a member of, "The First Virginia Regiment" Experimental Archeologist, and Re-Enactors. I am currently the President of the Peters Creek Historical society and Curator of the, Wright House Museum of Western Expansion. I have been made Bishop of the IPLF and... I really don't know why. My passion is 18th century frontier history, particularly the Virginia backcountry. I am currently teaching at Pricketts Fort, West Virginia in the, "Teaching History Through the Arts" program and have been an instructor with the National Parks Service and many private and local programs for the last twenty odd years.
I do speak at Universities, Historical Sites, Historical Organizations and Museums. If you are interested in me visiting your organization please inquire via the listed e-mail addresses.
On this site you will be able to find examples of scrimshaw and powder horns that I have made and new work I am currently working on. This site should give you an idea of the work I am capable of doing. Not everything you will see in my photo gallary is available for sale so e-mail me to see what is available. I do custom work and I work on other folks stuff. (i.e., knives, horns, boxes) If you are a guildmember or fellow craftsmen don't be affraid to ask questions and make inquiries. There is only one way to learn and that's by asking questions, e-mail me at: